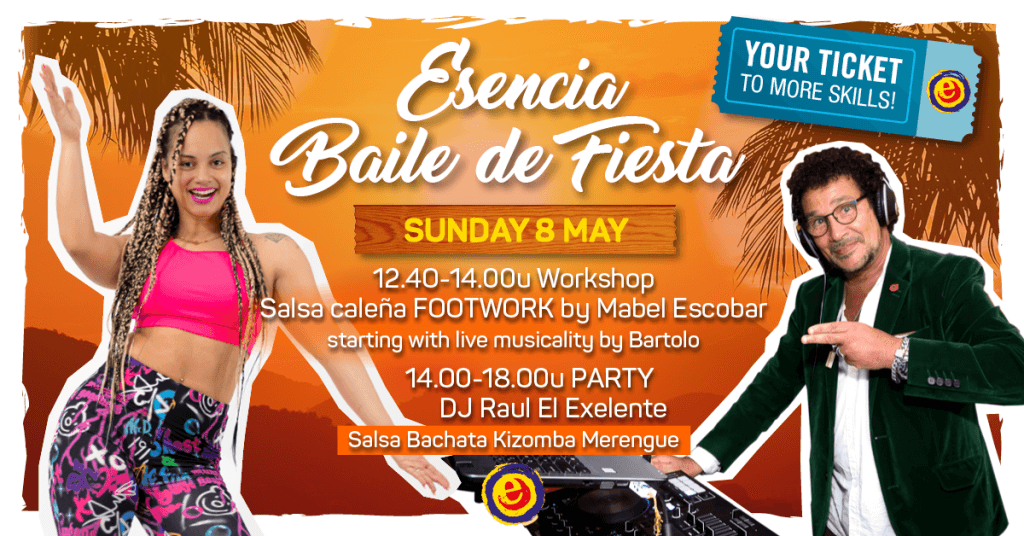 * Baile de Fiesta • met Kick-off workshop Salsa caleña solo footwork! para mamis y papis met Mabel & Musicality
 van Bartolo*
We are back with the Baile de Fiesta. Every Sunday at Esencia. Starting with an optional unique Kick-off workshop, to boost your dancing skills, creativity but most importantly to get you in the right mood for the fiesta. Every week is a new dancing experience!
⁂ Join us during the Baile de Fiesta! ⁂
■ WORKSHOP ■
Workshop: uitdagende workshop all the way from Colombia! Om 13:00 uur gaat Mabel ons weer nieuwe en swingende moves leren!
En let op: iets eerder om 12.40 uur leert Bartolo ons aan de hand van muziekinstrumenten meer 'in touch' te komen met de musicality die wij allemaal in ons hebben.
Time: 12:40 – 14:00
Teachers: Mabel Escobar & Bartolo
Level: Salsa Basis
 Get your tickets now at 
Get Tickets
Deze ticket geeft je ook toegang tot de Baile de Fiesta!
■ PARTY ■
Music:
 DJ Raul
Location: Korte Noorderweg 29, 1221 NA
Time: 14:00 – 18:00
 Get your tickets now at 
Get Tickets
Free parking spots available
5 minutes from Hilversum CS