De Baile de Fiesta is terug!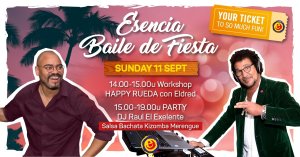 Elke zondag Baile de Fiesta bij Esencia. Beginnend met een optionele, unieke Kick-off workshop, om je dansvaardigheden en creativiteit een boost te geven, maar vooral om je in de juiste stemming te brengen voor het feest. Elke week is een nieuwe danservaring!
Iedere week een nieuwe kick-off workshop om jouw (dans)horizon te verbreden

De nieuwe week opgeladen ingaan met positieve energie

Gezonde hapjes en maaltijden beschikbaar
Ervaar de 'Good Energy' tijdens de Baile de Fiesta zelf!
WORKSHOP 11 September: Happy Rueda
Time: 14:00 – 15:00
Teacher: Eldred
Level: All-level
Get your tickets now at:
https://www.bueno.nu/webshop/school/151/schedule-detail/255801
This ticket also includes entrance to the Baile de Fiesta!
PARTY: Music DJ Raul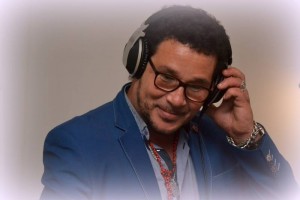 Time: 14:00 – 19:00
Get your tickets now at:
https://www.bueno.nu/webshop/school/151/schedule-detail/255800
Location: Korte Noorderweg 29, 1221 NA
Free parking spots available
5 minutes from Hilversum CS